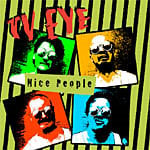 50,00

kr
Do you remember the early 80`s in CA. ? Bands like the DICKIES, ANGRY SAMOANS, DILS! Thats what TV EYE is about ! TV EYE from Sweden with ex members from the legendary Swedish punk/hardcore band RAPED TEENAGERS! the bands first full ....This is Punkrock how it should sound like.. short and fast..
Words by Doc from Dr. Strange Records
I can HONESTLY say its Fucking AWESOME! No kidding, amazing, right up my alley. I LOVED it right from the beginning. God, I.I'll let as many people know of TV Eye that I can. It's an awesome release!
Doc
TV EYE - Nice People CD
One of those slabs that makes any self respecting reviewer sit up and take notice. Refreshingly delicious rockn`punk with an infectious heavy dose of the besy of the early dickies and liberal slice of Marked Men, which we Euros can claim one of our own. A four piece twin-guitar ugly-looking Swedsih band that have hit the proverbial nail on the head with 31 uplifting one to two minutes salves that get both thumbs fully erect. easily my pick of the bunch.
Review from ARTCORE # 28